Our voice is strongest when we all speak as one.
Since coming together after the tragedy at Marjory Stoneman Douglas High School in 2018, Stand with Parkland has been instrumental to many significant bipartisan actions at both the state and federal levels.
2022 Inaugural National Summit on K-12 School Safety and Security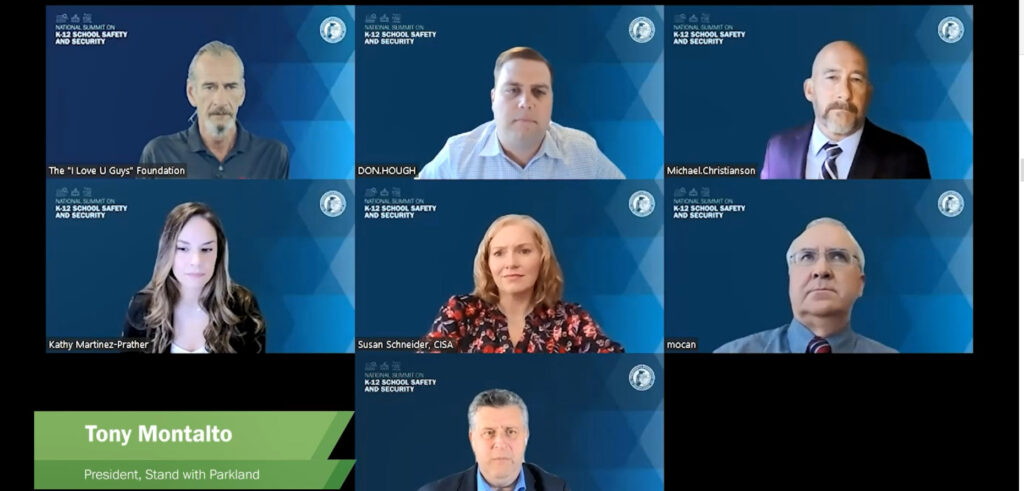 Stand with Parkland's Tony Montalto and April Schentrup were panelists at the 2022 National Summit on K-12 School Safety and Security to discuss with fellow leaders strategies for enhancing the safety of our schools.
The Bipartisan Safer Communities Act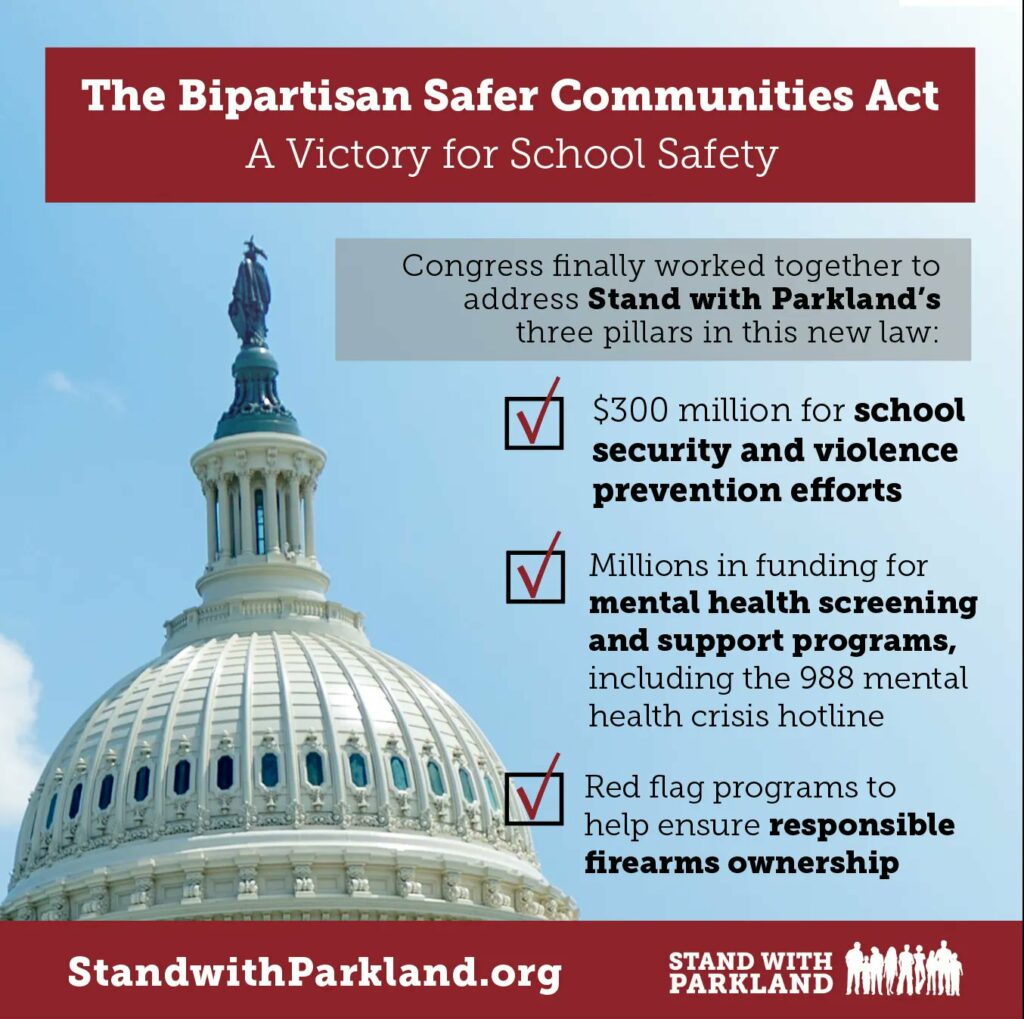 Throughout the negotiation process for this bill, we were in DC meeting with senators from both sides of the aisle to advocate for our school safety goals. And it is through this uniquely inclusive, non-partisan approach that we did our part to help get this bill across the finish line.

Florida HB 899 – Mental Health of Students
One of our core pillars is creating and bolstering the mental health resources available to students. This law does exactly that by requiring district school boards to designate a mental health coordinator and allocates more funding and resources for mental health assistance. This issue is especially timely given the growing number of American students struggling with mental health issues.
This bill passed following testimony from our President, Tony Montalto.
Florida HB 1421
The Florida House and Senate voted unanimously to pass this bill that we were proud to advocate for. It updates the school safety law originally passed after the tragic 2018 shooting at Marjory Stoneman Douglas High School. This comprehensive package will enhance the mental health and safety of students and families, including requiring school resource officers to complete mental health intervention training. It also mandates that the Department of Education publish school safety data, ensuring that school safety advocates have a robust toolkit in order to improve the safety of the community.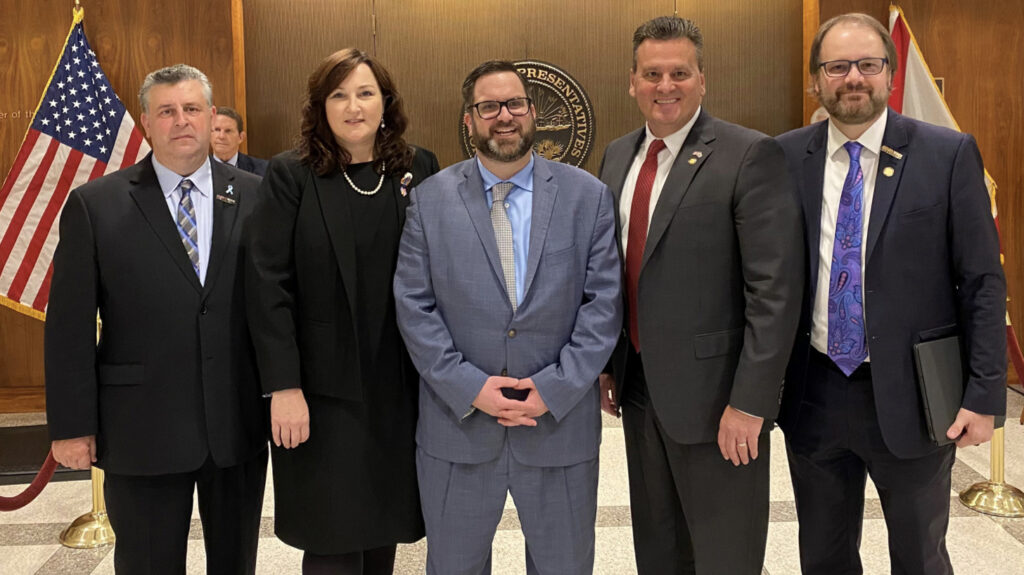 Florida SB 590 – School Safety
On July 1, 2021, SB 590 – School Safety became law in Florida. Stand with Parkland worked closely with elected officials to advocate for this bill, and our supporters joined in to call for specific provisions that would make schools safer for all students and staff members. This law creates a parental notification requirement to timely notifications of threats at school and ensures access to the state's SESIR data. In addition, the law requires school safety officers to complete mental health Crisis Intervention Training (CIT).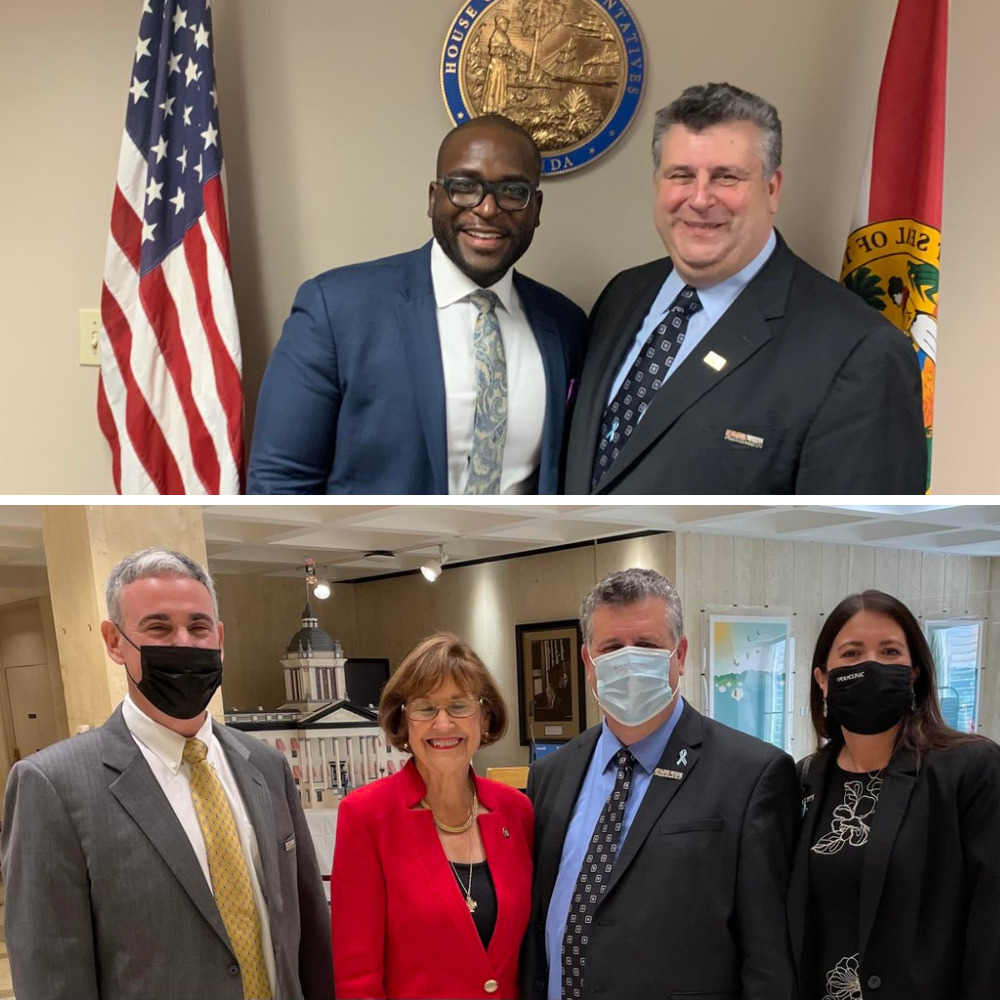 In Florida, SB 590 – School Safety became law on July 1, 2021. The law includes the establishment of a parental right to timely notification of threats at school. This provision was part of Stand with Parkland's Parents Need to Know initiative conceived by Board member Phil Schentrup and his wife April, after their daughter, Carmen, was taken in the Parkland school massacre. We were proud to be part of the team that crafted this comprehensive law that addresses ways to make schools safer for all students and staff members, including requiring school safety officers to complete mental health Crisis Intervention Training (CIT) and changes to the handling of students who are experiencing a mental health crisis. Read more highlights about the law's provisions here.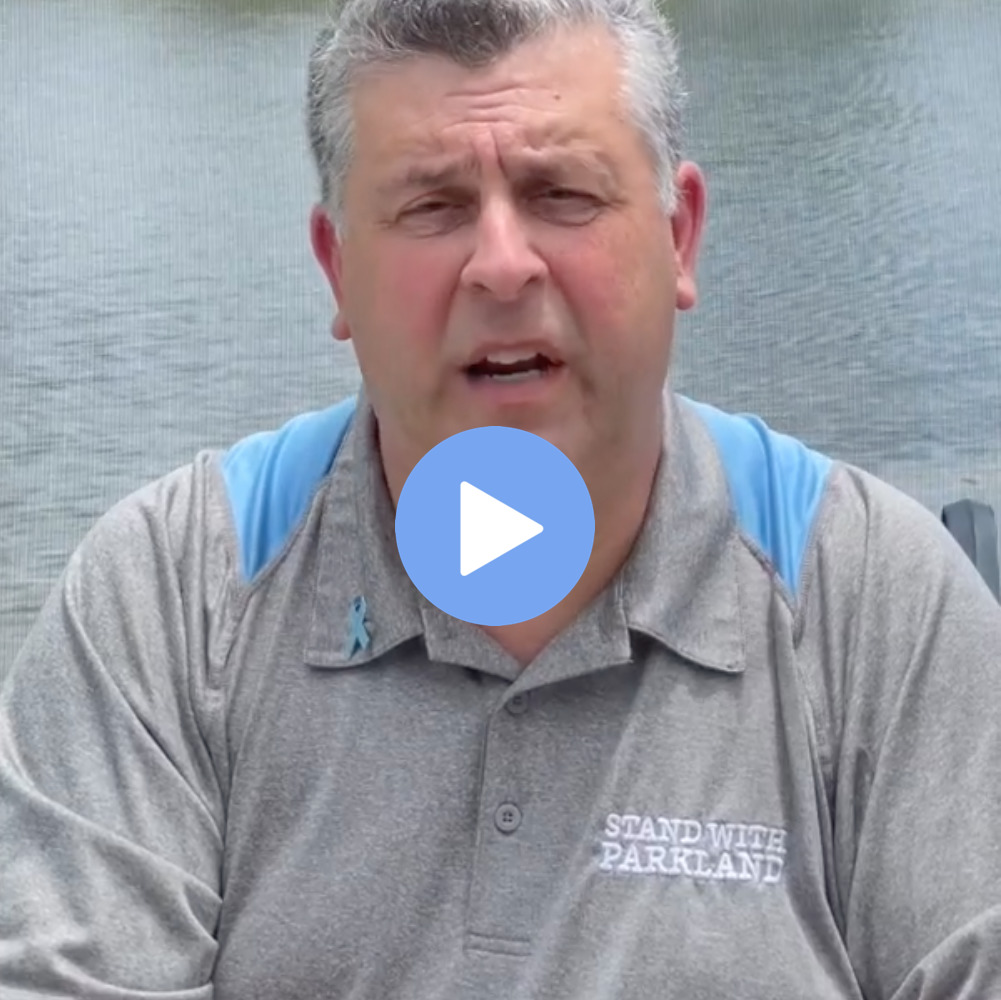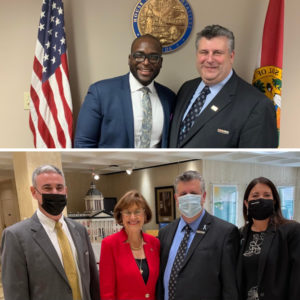 Stand with Parkland realizes that today's digital environment can be difficult for parents to understand. In order to help remove the mystery, we created a short video and a link on our Resources page to help.
Even at the peak of the COVID-19 crisis, Stand with Parkland found a way to take action by donating KN-95 masks to the law enforcement teams that help keep students and staff safe in the Parkland area.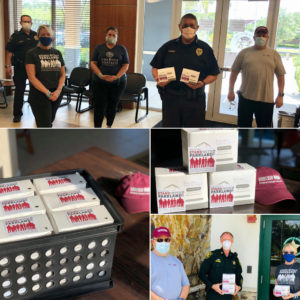 February 2020 was closed out with a day of Digital Threat Assessment training just a mile or so from where our tragedy took place. Stand with Parkland partnered with other organizations to have the team from Safer Schools Together train over 75 people from schools and federal, state, and local law enforcement agencies on how to use this vital tool to get kids the help they need before violence strikes.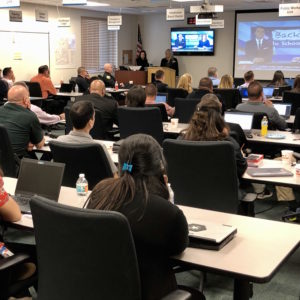 Stand with Parkland collaborated with U.S. Secret Service's National Threat Assessment Center on training sessions using Behavioral Threat Assessment to proactively prevent school violence. Over 4,000 lawmakers, school officials, mental health professionals, and law enforcement representatives throughout the country attended these sessions. This latest two-day event was held close to home in Miami, FL.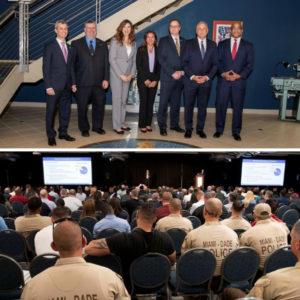 Championed SchoolSafety.gov, a one-stop-shop for those charged with the safety of America's schools to find information on a multitude of topics: implementing social/emotional learning techniques, changing the culture and climate of a school, checking the security plan with the readiness assessment tool, and more. The tool can also help schools find federal grant dollars to help pay for the changes. This effort to build this Clearinghouse of Best Practices required close collaboration with the Departments of Health and Human Services, Homeland Security, Justice, and Education. The Trump administration coordinated this incredible focusing of resources.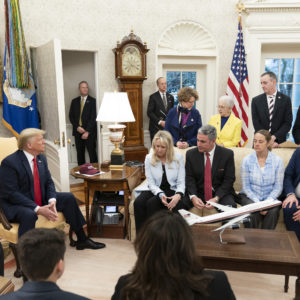 As we approached the two-year mark of the Parkland massacre, meetings were held with both Democratic and Republican members of Congress in Washington, DC in February 2020 to discuss ways to improve school safety and prevent future shootings. SWP asked both Senate and House members to pass the Eagles Act and Senators to hold votes on House-passed firearms legislation or create new proposals that could be acted upon.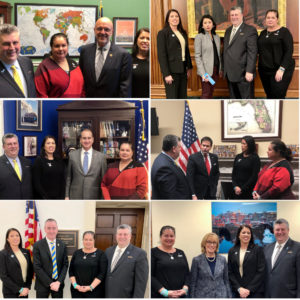 Traveled across the country promoting the new report from the U.S. Secret Service's National Threat Assessment Center, which will help communities and administrations better spot a troubled person and get them help before an attack occurs.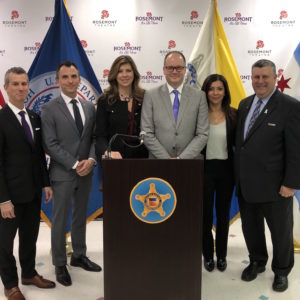 Supported Senator Rick Scott (R-FL) in his introduction of the TIPS Act, which directs the FBI to share threat tips it receives with local law enforcement to help ensure action is taken. This is an effort to correct one of the many failures that occurred prior to the Parkland school shooting.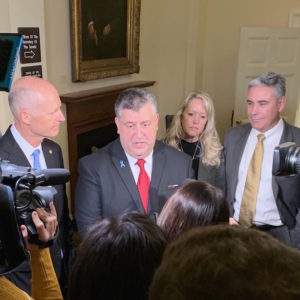 Met with members of Congress in Washington, DC in October 2019 to discuss ways to improve school safety and prevent future shootings. SWP asked House members to pass the Eagles Act and Senators to vote on House-passed firearms legislation. 
Participated in the beta testing of the federal School Safety Clearinghouse website designed to provide educators and administrators access to "best practices" regarding school safety.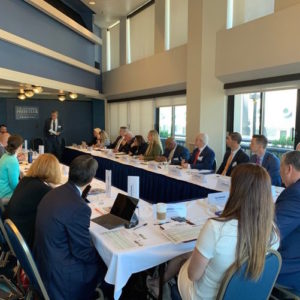 Penned an Op-Ed for the Washington Post urging for federal legislators to make changes, even small ones, to prevent gun violence in September 2019. Tony Montalto, SWP President, pressed for legislators and President Trump to act now, not wait for the next mass shooting massacre. 
Launched a new initiative called 5 Questions Every Family Should Ask at the start of the 2019-2020 school year.
Met with members of the President's Domestic Policy Council and other administrative officials in September 2019 to advocate for public school safety reforms: securing our nation's schools, improved mental health screening and support, and responsible firearms ownership.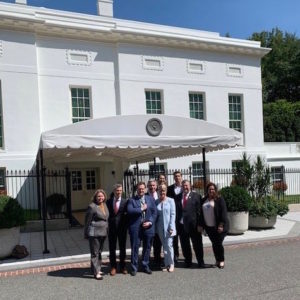 Held a press conference with Congressman Deutch (D-FL) regarding the Eagles Act and school safety for the upcoming school year in August 2019. SWP also held a press conference with the Florida chapter of Moms Demand Action to urge Congress to get bills to the President's desk regarding background checks and "red flag laws."
Wrote an Op-Ed in Newsweek and canvassed the halls of Capitol Hill to urge Congress to work with the President on passing bipartisan legislation that will help reduce gun violence in August 2019. 
Attended a roundtable discussion in July 2019 with two dozen national groups regarding the School Safety Clearinghouse being developed to improve school safety nationwide.
​Testified before the U.S. Senate Committee on Homeland Security and Government Affairs to make schools safer in July 2019. Tom Hoyer and Max Schachter called for more funding for school security, federal research of school threat assessments, better sharing of information between law enforcement and other agencies, and discussions of "red flag laws."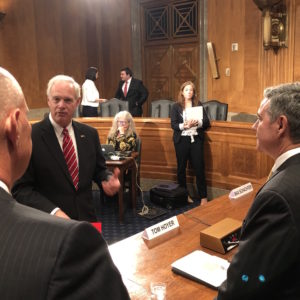 Endorsed the Eagles Act, as it was introduced in the house by Congressmen Ted Deutch (D-FL) and Mario Diaz-Balart (R-FL) in July 2019. The same bill was first introduced in the Senate by Senator Chuck Grassley (R-IA) in April 2018 and then refiled in the 116th Congress with support from Senator Marco Rubio (R-FL), Rick Scott (R-FL), Doug Jones (D-AL), Joe Manchin (D-WV), and Cory Gardner (R-CO). This legislation, named for the Marjory Stoneman Douglas High School Eagles, will expand the U.S. Secret Service's National Threat Assessment Center (NTAC) with a greater focus on school violence prevention.
Attended the first debate of 2020 Democratic presidential candidates in Miami, FL in June 2019. We had an opportunity to speak with some of the candidates and advocate for safer schools for all Americans. We are willing to work with anyone who shares our goal of safer schools for America's students and teachers.
Joined singer Michael Franti in the first-ever "Stay Human Party in the Park" in Denver, Colorado in June 2019. We brought our inclusive, nonpartisan, and holistic message regarding school safety to this event.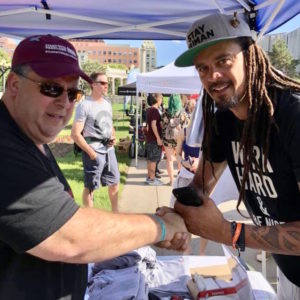 Attended a briefing in Washington, DC regarding the Federal School Safety Clearinghouse of "best practices" where we provided our input and suggestions, along with the Secretary of Education DeVos, the Dept. of Education, Dept. of Health and Human Services, Dept. of Justice, and Dept. of Homeland Security in May 2019.
Wrote letters and called on Florida's legislative leaders to oppose the arming of teachers in SB7030 while still expressing support for other sections in April 2019. "We believe our teachers should be focused on teaching and trained law enforcement or school security officers should be provided to protect our students and staff at school."
Met with Senator Lindsey Graham (R-SC) and other senators on Capitol Hill to discuss holding a hearing on "red flag laws" in February 2019. In March 2019, SWP members were invited by Senator Graham to attend the Senate Judiciary Committee on Extreme Risk Protection Orders (also known as "red flag laws").
Attended the U.S. House of Representatives Judiciary Hearing on H.R. 8 "The Bipartisan Background Checks Act of 2019" in February 2019. Afterward, Stand with Parkland held a press conference with Everytown and a bipartisan group of Congressional members in support of passing H.R. 8.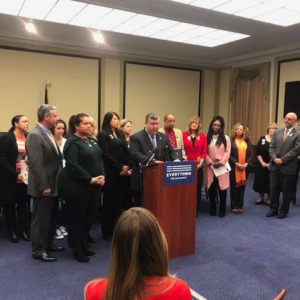 Met with New York City Council members discussing our all-encompassing approach to school safety in January 2019.
Met President Trump and worked with administration officials to give input regarding recommendations in the Federal Commission on School Safety report, which was released in December 2018.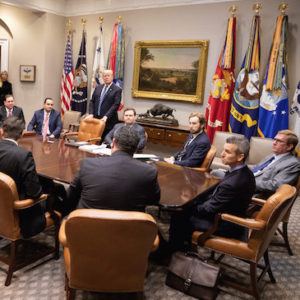 Supported the Coral Springs, FL firearms buyback in conjunction with F4now.org in September 2018.
Helped arrange Stop the Bleed kits installation in local schools with Make Our Schools Safe. Their SafeTalk program has intervened to prevent students from attempting suicide.
Held a town hall meeting with the Walk Up Foundation in May 2018 to promote better mental health and suicide prevention.
Held a "best practices" meeting in Parkland, FL with Safe Schools for Alex in March 2018. School District police from around the country, mental health experts, Sandy Hook Promise, and others exchanged ideas on what works and what doesn't regarding school safety.
Worked with US Senators Bill Nelson (D) and Marco Rubio (R) to hold a school safety forum in Washington, DC in April 2018. Various other congressional members were present at times including members from Florida, Indiana, and Connecticut.
Sent letters to leaders of both Republican and Democratic parties in the US House of Representatives and the US Senate demanding they take action to include the Fix NICS Act and the STOP School Violence Bill in the Omnibus Spending Bill. We were successful and the spending bill was signed into law by President Trump in March 2018.
Successfully lobbied for passage of the Marjory Stoneman Douglas High School Public Safety Act in Florida. It was signed into law by Governor Rick Scott (R) in March 2018.