NOW WE ASK FOR YOUR HELP.
STAND STRONG AGAINST VIOLENCE IN AMERICA'S SCHOOLS.
Stand with Parkland is a national organization representing American families. We are committed to advocating for practical public safety reforms focused on the safety of our children and staff at school, improved mental health support, and responsible firearms ownership. Personal responsibility and a desire for change are paramount to this effort, and it is the people involved at all levels that will make these goals a reality. Violence in our schools affects everyone. It is an American epidemic, and it is time that we all come together to do something about it.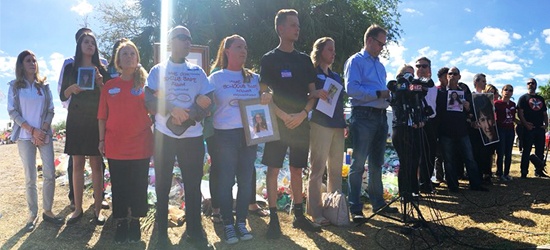 THE FAMILIES
The families of the victims in the Parkland shooting are inspired by the love and support of millions of people who have reached out to us, the courageousness of the surviving students who have spoken out, and the millions who have marched. As the families who have suffered the loss of a loved one in this tragedy, we are banding together to do something about violence in our schools so that no other families have to experience the pain that we have had to endure.
Ilan and Lori Alhadeff
The Duque Family
Mitch and Annika Dworet
Melissa Feis
Debbi Hixon
Tom and Gena Hoyer
Damian and Denise Loughran
Tony and Jennifer Montalto
Ryan and Kelly Petty
Vinnie and Anne Ramsay
Max Schachter and Caryn DeSacia
Phil and April Schentrup
Linda Beigel Schulman
Kong Feng and Hui Ying Zhang [Linda] Wang